A Cornish dairy farmer whose boreholes dried up in a summer's heatwave has been able to secure an alternative water supply for his cows after calling in the expertise of Source for Business.
Chris Colloby, who farms 130 acres at Kennacott Farm, North Petherwin, usually draws water from three boreholes, which are fed from springs on the farm. The unusually hot, dry conditions meant that at the start of July these ran dry and he found himself without enough water for his animals.
The farmer has a dairy herd of 160 cows as well as around 80 young stock and uses between 18,000 and 20,000 litres of water every day between a domestic dwelling, a holiday accommodation business and livestock.
Chris was away in Cheshire when he received a worrying phone call from his wife, who told him that the cows couldn't get enough water.
As the water levels had dropped, so too had the herd's milk yield, with each cow typically producing five litres less milk per day less than normal. Chris estimated that this was costing him £280 a day in lost revenue with a bigger concern being the welfare risk to his livestock, particularly pregnant cows.
After contacting the wholesaler South West Water, Chris was referred to his water retailer, Source for Business and spoke to their agriculture specialist, Nigel Ponsford.
By chance, Nigel lives nearby and was able to visit immediately to investigate the site to find a solution. While the boreholes provide a cost effective way of drawing water for most of the year, Nigel advised that a mains connection would give the farm a contingency plan in case of another dry, hot summer in the future.
Nigel sought advice from the Environment Agency before arranging a temporary solution to secure the cows immediate access to water by abstracting from a nearby river. He then liaised with the wholesaler and a contractor to install an emergency mains water connection which necessitated a pipe to be laid under a neighbouring field, with a standpipe, so that Chris could fill large storage containers with mains water for his livestock.
Although like many farmers, Chris was still concerned about the economic impact of the heatwave because of a likely shortage of affordable forage this winter, he is relieved to have peace of mind about his water supply.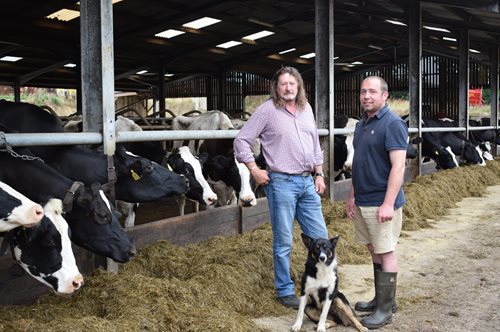 Picture: (From L to R) Nigel Ponsford, Chris Colloby