Source for Business (SFB) is helping farm managers on the historic Caerhays Estate to save thousands of litres of water and consequently thousands of pounds from their water bills.
SFB has been working with the estate to make the most of its non-mains water sources so that it can substantially reduce its water consumption.
The historic estate is located in a sheltered valley overlooking Porthluney Cove on the south Cornish coast between Truro and St Austell. The property is known for its coastal location, its castle and its 120 acres of woodland gardens, including a nationally renowned collection of camellias. Both the castle and gardens are open to the public for part of the year and Caerhays has developed a reputation as a stunning venue for weddings.
The estate's Home Farm has a mixture of activities with 80 Saler cattle, around 600 sheep, potatoes and arable crops which all need water. The estate already harvests rainwater in order to minimise its consumption of mains supplies but it is still finding that water levels run low at certain times of the year, meaning that it has to use mains water for its animals.
To tackle this, SFB worked with the estate to bring a cliff top well back into use. This meant that thousands of extra litres of water were available, with a pump used to extract the water so that it can be stored in tanks on the farm until it is most needed.
SFB engineers dug a trench across the field to connect the well to a power supply so that the water can be taken out and pumped into the storage tanks ready for use.
SFB's Key Account Manager for Agriculture, Nigel Ponsford, advised Caerhays on reinstating the well. "It's quite a straightforward process that will work well for the farm. Once it is up-and-running we can look at supplying other parts of the estate with the well water," he said.

Many farms have disused wells or springs that can be quickly and easily brought back into use to supply additional water in this way, meaning that they could save a substantial amount on their water bills.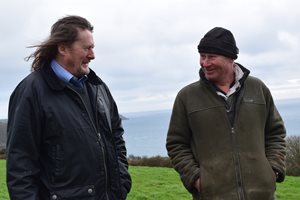 Picture: (From L to R) Nigel Ponsford (Source for Business) and Hamish Ross