When considering the water your business uses, the first step is to ensure it's safe and our PURE services focus on doing precisely this. It is essential to protect everybody who might use water in your business, and having a Legionella risk assessment and control regime in place is the best way to do this.
It can be easy to take for granted that the potable water that arrives at our premises is still fit for purpose when turning on our taps. However, every plumbing system is different in layout and in age.
It is a good idea to understand where your water pipes are and if they are all 'live', especially if you or those before you have extensively changed the site. A good starting point to ensure your water is safe is to commission an up-to-date legionella risk assessment.
Scroll down and browse through a range of services we offer under the PROTECT heading of our our PURE services.
PROTECT services include:
The regulation
A suitable and sufficient assessment must be carried out to identify and assess the risk of exposure to legionella bacteria from work activities and water systems on the premises and any precautionary measures needed. The dutyholder is responsible for ensuring the risk assessment is carried out. The dutyholder is either:
(a) the employer, where the risk from their undertaking is to their employees or others; or
(b) a self-employed person, where there is a risk from their undertaking to themselves or others; or
(c) the person who is in control of premises or systems in connection with work, where there is a risk from systems in the building, eg where a building is let to tenants, but the landlord keeps responsibility for its maintenance.
The dutyholder must ensure that the person who carries out the risk assessment and provides advice on prevention and control of exposure must be competent to do so.
What does this mean?
Any business that employs more than five employees, requires an Legionella risk assessment. This should be kept up to date on a yearly basis and refreshed if any site developments are undertaken.
A risk assessment details clear instruction on what you need to do to be compliant. You should action any reccomendations identified in the Legionella risk assessment. It will help you mitigate any risks identified.
If you have not followed steps 1 and 2, a Legionella outbreak could be catastrophic to your business. Not only could your reputation be damaged, there are significant penalties include serious fines and even imprisonment.
Temperature monitoring is an essential part of a water monitoring regime to ensure that your water is within safe parameters to ensure that legionella does not flourish. This involves someone physically running water for two minutes, recording the temperature at every outlet, and manually logging and reviewing test returns. We offer bespoke temperature monitoring services that are tailored to your Legionella risk assessment specification.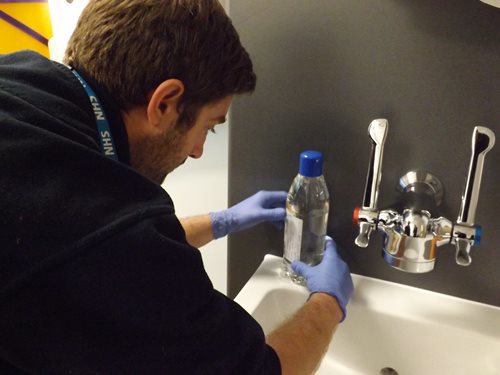 These are fitted to avoid scalding, particularly in places like care homes and hospitals, but must be correctly selected, fitted and serviced to prevent legionella bacteria from forming.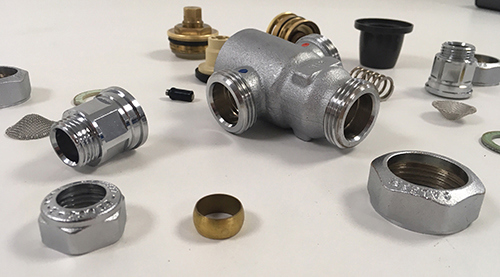 Cold water storage tanks should have annual inspections, and six-monthly samplings carried out in line with ACoP L8 compliance. Where recommended, a clean and disinfection will be carried out. The tank will be drained down, and all internal surfaces will be cleaned and all debris removed. The tank is then re-filled with mains water and re-tested.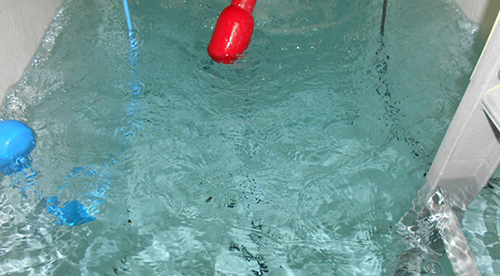 All businesses use water. Whether you're a large or small business, an interruption to your water supply could be anything from inconvenient to disastrous, making contingency planning an important consideration.
When a water supply outage occurs, it can often be overwhelming. It's difficult to know initially what has caused the interruption and how long it will be until your supply is restored. Having a plan in place when this happens will ensure your business can keep running, no matter how long your usual supply is affected.
Our contingency planning service ensures your plan of action has the following:

Guaranteed response

Available 24/7

Nationwide coverage

Quality assured
Tankered water
If you do suffer a water outage, we have partnered with a company that can provide you with a supply of clean drinking water within hours via their emergency tankers. They can also supply static water tanks should there not be enough storage and a pump that connects directly into your network via a connection point.
Bottled water
Our partner can also deliver emergency bottled water by the pallet in 2 litre, 500ml and 330ml bottles immediately. Where required, they can also distribute water via pop-up bottle water handout pods or even offer a doorstep delivery service.
Emergency bottled water is stocked nationwide and supplied in 2 litre, 500ml and 330ml bottles, ensuring a rapid response.
Bulk water tankers are available in volumes of 10,000, 19,000 and 30,000 litres for a variety of water supply services.
Our partners store millions of litres of bottled water nationwide ready for deployment on same day, next day, planned or emergency basis.
Water bowsers and static tanks are fully chlorinated before deployment, meaning they are quality assured to hold drinking water.
Contingency planning service ensures you have a plan in place for unexpected water supply interruptions.
Our other PURE services: Understand your consumption
Before any business can save water, it needs to understand how much it uses, when and for what purpose.
Reduce your water usage
Every litre of water that flows through your meter needs to be paid for. Reducing how much you use makes sense. Enhance your water systems
The potable water provided by your wholesaler may not always meet your specific needs.