Wat-er honour! Professional body names Lewis as one of UK water industry's 2020 rising stars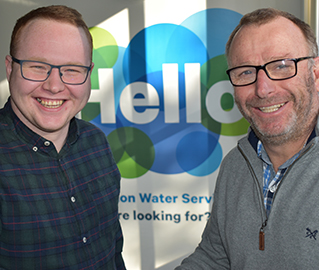 17 Feb 2020
Lewis Orr is the toast of his company after being recognised as a rising star in the UK water industry. The 26-year-old, who works for Pennon Water Services in Bournemouth, was named as the South West's 2020 Rising Star by the Institute of Water.
Lewis joined the company three years ago, initially as a Customer Services Agent. He was promoted to Settlement Analyst and Deputy Contract Manager last year.
"I was quite shocked to be told I'd won the title but very happy," said Lewis, who comes from Scotland.
He added: "I understand there were initially about 50 applicants with eight selected for an interview. I felt the interview went well. I was later told that it was my 'infectious personality' which swung it."
Lewis will now spend the next 12 months meeting some of the key players in the industry and attending various events.
He's already been a guest at the Utility Week Awards 2019 at London's Grosvenor House Hotel and, last week, flew to Belfast with the other regional winners to meet Sara Venning, Chief Executive Officer of Northern Ireland Water. She is also the current President of the Institute of Water.
Lewis said: "I just love my company. They gave me a chance when I was new to Bournemouth with no real experience. Now they've promoted me after recognising my hard work and commitment. That means a lot."
Richard Barton, Head of Operations, Pennon Water Services, and former Chair of the Institute of Water, said: "It's a great honour for Lewis and we couldn't be more pleased for him. This initiative by the Institute of Water is a brilliant way of identifying future talent.
Lewis will have access to some of the leading players in the water industry which will add to his knowledge and benefit his future career."