Source for Business win Chief Executive Award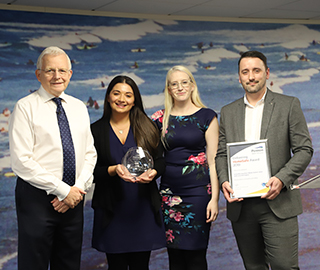 08 Jan 2020
Three qualified mental health first aiders at Source for Business (SFB) have picked up a top award from their parent company, Pennon Group plc.
Samantha Hamilton-Welsh, Lorna Harrington and Damon Jones devised and implemented a mental health programme for SFB.
They formed a Mental Health First Aid team, now branded as the 'Wellbeing Campaign', which focused on rolling out initiatives to promote and support the overall wellbeing of all SFB staff.
The trio have now been presented with a Chief Executive HomeSafe award for the SFB business in recognition of their efforts.
The annual awards, first introduced in 2018, recognise excellence in health and safety performance, innovation and improvement across Pennon Group plc.
Nominations were invited from employees and agency workers with 46 entries reviewed and judged by the leadership teams in the Pennon businesses.
The 'Wellbeing Campaign' team won the award – the first for SFB.
Richard Stanbrook, SFB Director, said: "As a new company in a new market we invest heavily in our people to provide excellent service to set ourselves apart from others.
"When our staff feel under pressure, they need an outlet.
"The mental health first aid team, set up by Lorna, Sam and Damon on their own initiative, has been highly successful in supporting everyone when challenges arise."
Based in Bournemouth, SFB specialises in providing water retail services for all business customers' water management needs.
It is part of Exeter-based Pennon Group plc which is one of the largest environmental infrastructure groups in the UK.
The FTSE 250 company has assets of around £6.5bn and a workforce of approximately 5,000 people.