Eve's poster triumphs in Water Saving Week contest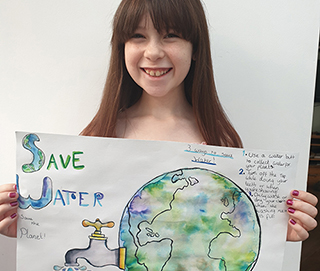 30 Jun 2020
A ten year old punched the air and said: "Everyone should become a water warrior" after winning a poster competition.
Eve Standen came first in her age category in the contest staged by South West Water to mark last month's Water Saving Week.
The competition was open to school-age children of staff, family and friends of parent company Pennon plc.
Entrants had to draw a poster to show what they have done to save water.
The contest was judged independently by Waterwise, a not-for-profit body focused on reducing water consumption in the UK.
Eve, the daughter of Source for Business employee Elaine Dicker, won a £30 book voucher for herself and a £250 cheque and a water butt for her school, Queens Park Academy.
A spokesman for Waterwise said: "We loved this poster, not only because of the wonderful tips on how to save water but that Eve had cleverly used watercolours to paint the earth too.
"We liked how she's drawn the tap coming straight out of the earth because lots of people forget that our tap water comes straight from our local environment."